The Dragonslayers
are an elite group of fifteen
Zaibach
soldiers lead by
Dilandau Albatou
.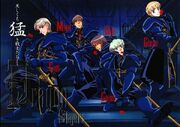 Though the soldiers are young in age, they are accomplished in the arts of swordsmanship and Guymelef operation. They are very loyal to their leader, Dilandau, even though he tends to treat them disparagingly.
Viole (anime only)
Guimel (anime only)
Ryuon (movie only)
Several of the names of the Dragonslayers are taken from the Hebrew alphabet: Dallet (dalet), Shesta/Chesta (chet), Guimel (gimal).
Community content is available under
CC-BY-SA
unless otherwise noted.